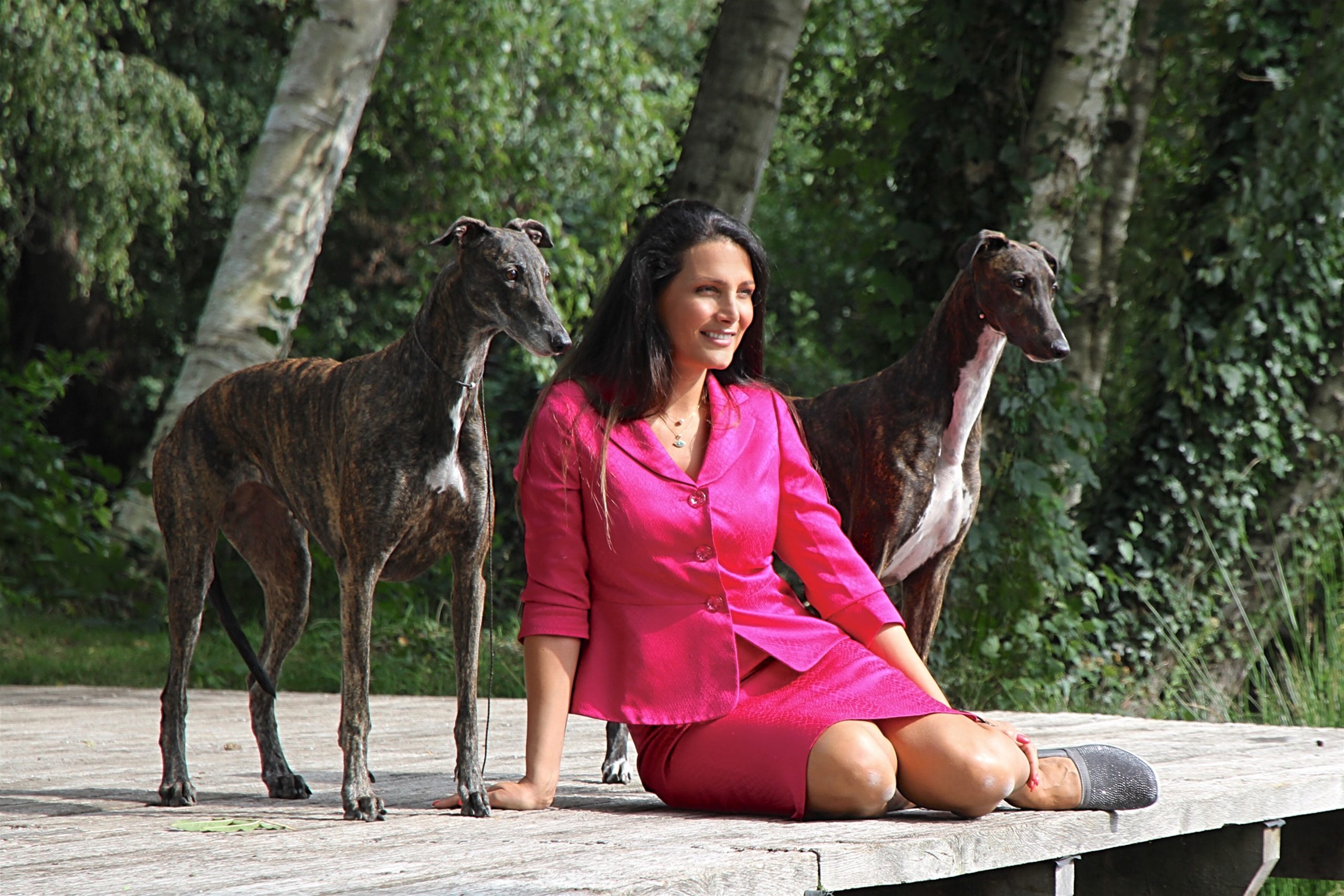 Ina was born in Cyprus lived in London and Athens. For more than 13 years she has been a full time fashion model around Europe, worked with many popular designers and companies like Vivienne Westwood, Zandra Rhodes, Alexander McQueen, La Perla, Cerutti, Mitsu|Mitsu, Escada, L'Oréal and many more. She has been starring in many TV commercials of well known brands.
But what Ina loves most since she was born are Dogs! She loves dogs of all kinds. She was grown in a family with a father and older brother owning home all kinds of hounds. Her father was also breeding English Pointers and Italian Hounds. From very young she was suited with hounds and in the passage of years she enriched her knowledge. The experience however is what made her distinguish greyhounds and realized that this is the breed she wanted to concentrate on.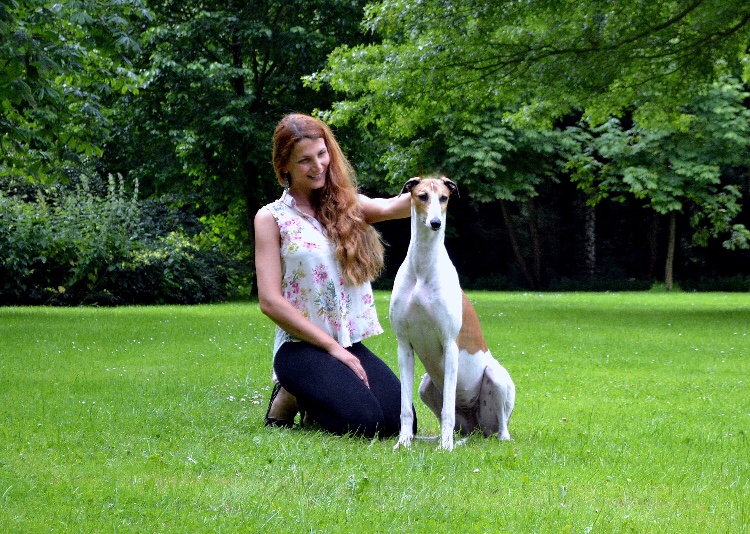 "I am familiar with hounds since I was born. My father used to own a few greyhounds between other breeds. I owned my first greyhound when I was 10 years old and since then my heart belongs to the breed.
GREYHOUNDS ARE MORE THAN A PASSION TO ME, IT'S MY LIFESTYLE!
When you really care for the breed and you dedicate your life to, any knowledge is never enough, there is always something more to learn. And this is what i always try to do by travelling with my dogs by being part of the "greyhound world" where the biggest entries are and the best quality of our breed. I feel honoured to know personally a lot of very experienced people in greyhounds and i am always hoping to learn something more from them about this amazing breed.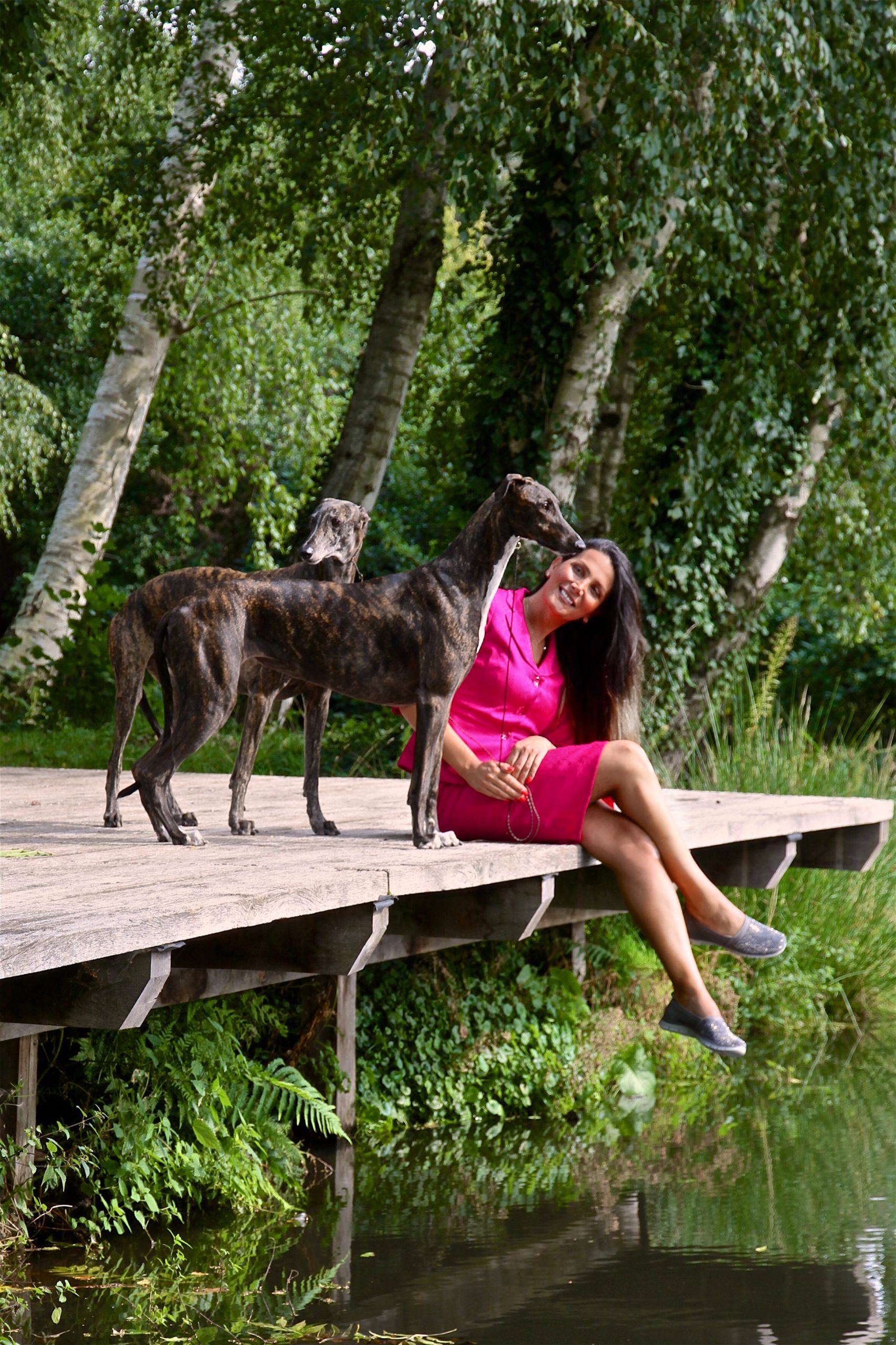 My dogs live in the house and are members of my family. We live in North Germany just 30km outside Bremen in an old farmhouse build in 1820s. We bought and renovate the interior of the house for our greyhounds needs with lots of indoor and outdoor space for adults and puppies. Our dogs share our sofas and beds, having the human touch 24/7 like any other pet.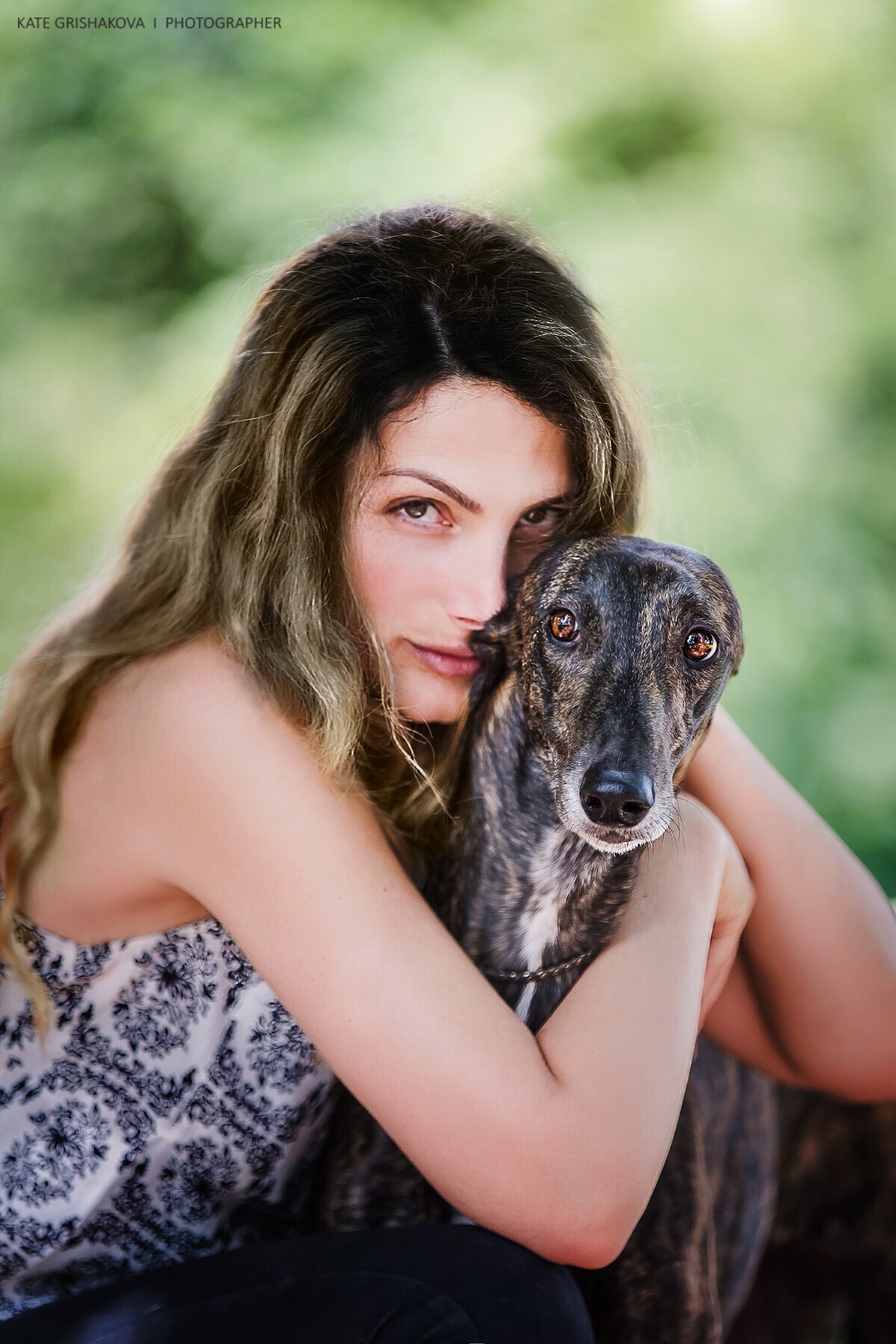 Ina's Fashion Bright – Top Greyhound Brood Bitch UK 🇬🇧 2019 & Top Hound Brood Bitch UK 2020. Photo by Kate Grishakova.
Greyhounds are well known as athletes and we make sure to provide them with the right exercise many times per day. Our "greyhound garden"  is  more than 8000 sq.meters all fenced including forest and field for free exercise. We are lucky to live in the middle of  forests and fields which  we enjoy by taking our dogs for daily walks on lead.
We make sure to combine exercise always with the right nutrition and to keep the dogs at the best possible weight balance and physical condition.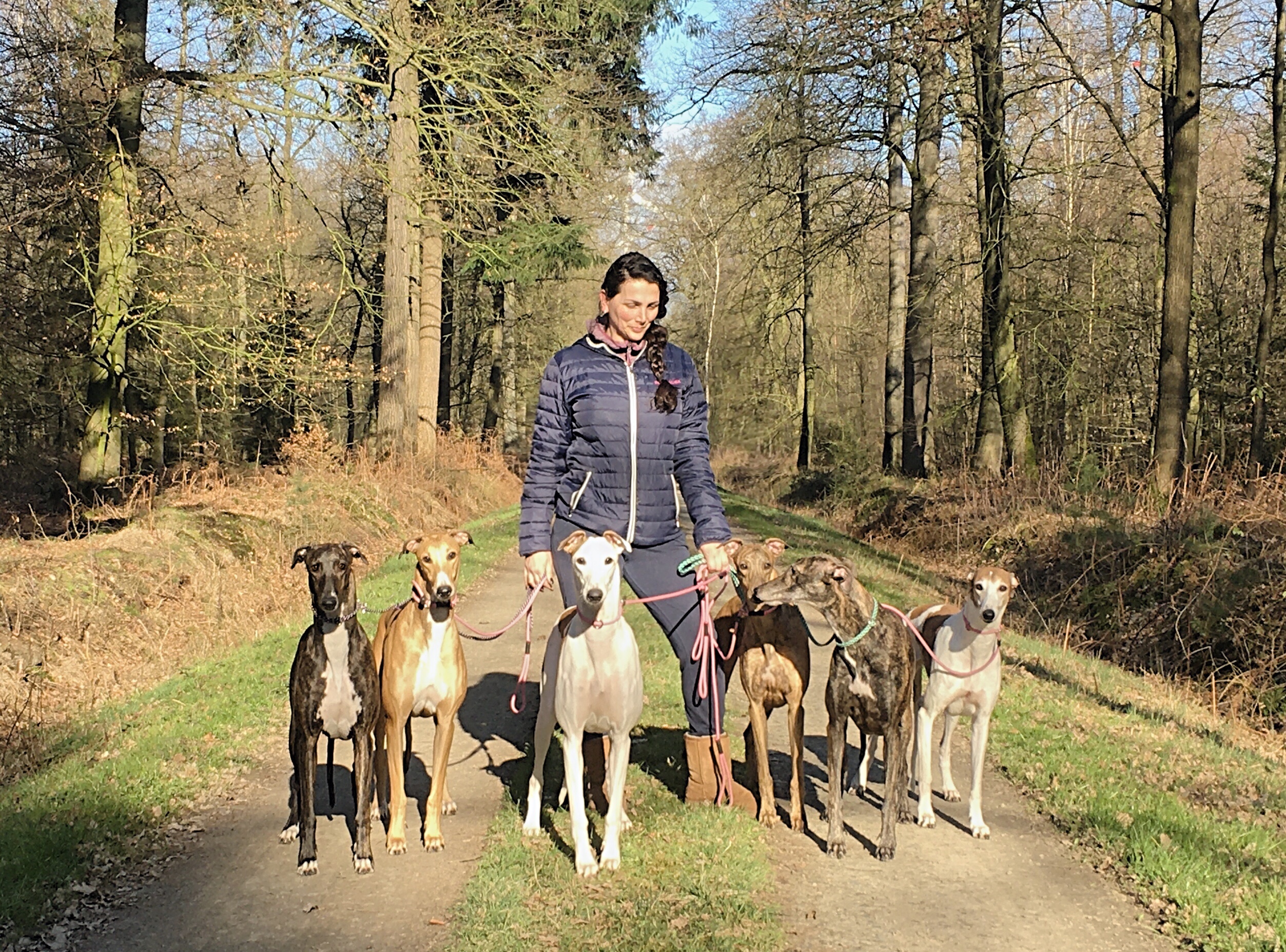 We have exported Greyhounds to England, Ireland, Sweden, Finland, Denmark, Belgium, France, Italy, Greece, Cyprus, Czech Republic, Croatia, Hungary, The Netherlands, USA, Canada and South Africa.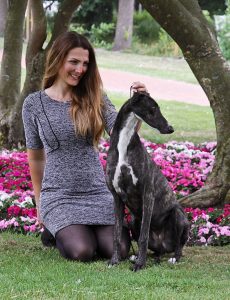 Breeding for me is a combination of vision, goal and love.
I love the breed for its temperament, qualities, standard, anatomy, function and ofcourse appearance.
My goal is to be able always to breed Greyhounds that are healthy, strong, with breed type, correct in standard with both internal and external beauty."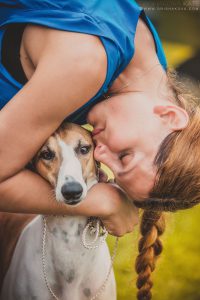 There are people during the years that helped me, advised me, supported me and trusted me.
I would like to thank:
-Annalena Almgren & Johan Rosengren of "EPIC Greyhounds" in Sweden for my amazing Brood girls and their experienced advises during the years.
-Clare Boggia of "Boughton greyhounds" in UK for all the help, support and corporation.
-Bitte Ahrens Primavera & Pierluigi Primavera of the well known "Sobers", House of Hounds in Italy for entrusting me with our handsome "Danny" and the long time exchange of  experienced ideas. 
– Last but not least a big thank you goes to all our puppy owners who love and take care of our babies. Without their support, our worldwide success wouldn't be possible. 
I would like also to thank everyone for the beautiful photos on my website and to all fans of our dogs and supporters at every occasion. 
 'Ina's Fashion' is registered with the  Fédération Cynologique Internationale (FCI) and the German kennel club (VDH)
Ina Koulermou is a member of the German Sighthound Association (DWZRV) the Swedish greyhound club ,Finnish greyhound club, the Greyhound Club (UK) and the American Kennel club.
Our dogs for more than a decade are being fed by Eukanuba and Nutrolin with excellent results. Ina's Fashion has been chosen as a EUKANUBA Ambassador Breeder since 2017 and an ambassador breeder of NUTROLIN since 2018.