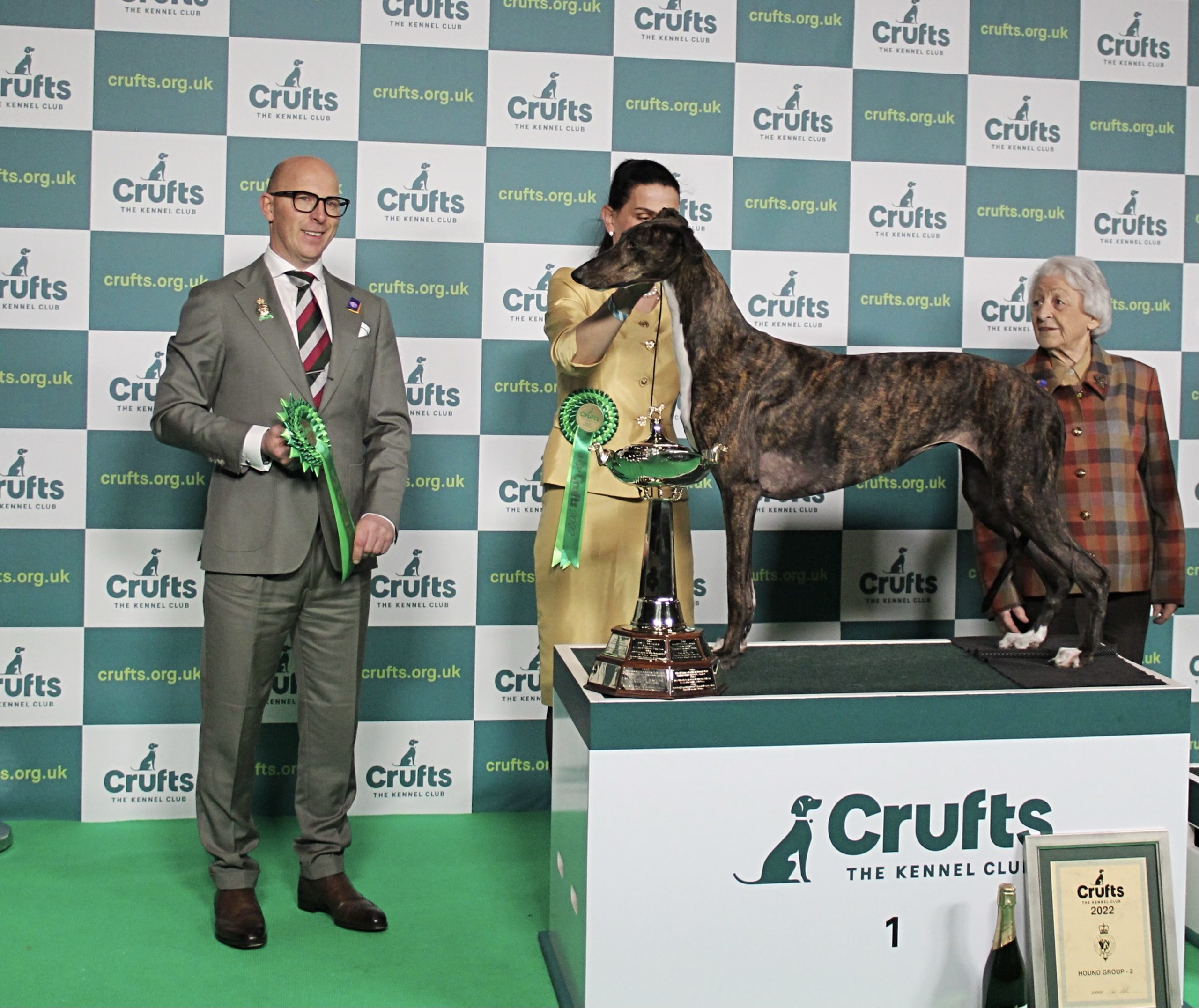 Without doubt being given the honour and privilege to judge the Hound group at Crufts will remain with me for the rest of my life and I loved every minute of the whole day. Standing in the centre of the famous green carpeted ring watching a beautiful collection of this years BOB winners enter individually I knew I was going to have fun selecting the top 4.
The BOB PBGV (Petit Basset Griffon Vendéen) did a lovely lap of honour for his proud owner as I was the breeder but then I had a full compliment of hounds to assess.
My shortlist was the very nicely made, compact beagle, the std wire dach (standard wire dachshund) with a super outline and type all through, a stunning Ibizan with such presence and dignity "Ch Kalo Skilo's Bow Bells Guns N Roses", owned by Mrs M L Knudsen), the commanding powerful Irish Wolfhound ("Ch Sade Paris", owned by Chris Amoo) and very balanced Rhodesian Ridgeback.
My group 4 winner was a 4yr old GBGV (Grand Basset Griffon Vendéen), Ch FORGET ME NOT V TUM TUMS VRIENJES with the correct proportions and substance the breed calls for. A noble head with strength, nicely chiselled under the eye, ears well folded with good length, his body is deep and firm with a lovely level topline, his coat is harsh. On the move he holds his shape and his tail carriage is exactly how it should be in a sabre like fashion. A very nice example of the breed.
Group 3, (Pharaoh Hound) Swe Ch/Ch VASKURS MONI MAKER QIWIDOTTER, this bitch really caught my eye as she entered the ring and on closer examination she is very typical all through, her skull is long and lean with high set ears which she uses at all times. Her front is nicely under her body with such a lovely lean arched neck, moderate and balanced front and back with straight topline she holds at all times, in tip top condition, free flowing on the move. She paints a super picture on the stack.
Group 2, (Whippet) CRÈME ANGLAISE'S IRISH CREAM, just 2 years old with the most beautiful clean graceful outline, feminine all through, she stands over good ground without any exaggeration, her head has good length with a flat skull and rose like ears set well back, straight forelegs and oval feet, deep chest with ribs extending well back. She has a neat waist and defined tuck up. I loved her long easy stride where she holds her outline. Full of breed type in fantastic condition, she has a real connection with her handler which is evident and she wants to give her all.
𝐀𝐧𝐝 𝐦𝐲 𝐠𝐫𝐨𝐮𝐩 𝐰𝐢𝐧𝐧𝐞𝐫 𝐰𝐡𝐨 𝐬𝐭𝐨𝐥𝐞 𝐦𝐲 𝐡𝐞𝐚𝐫𝐭 𝐚𝐧𝐝 𝐠𝐚𝐯𝐞 𝐦𝐞 𝐠𝐨𝐨𝐬𝐞 𝐛𝐮𝐦𝐩𝐬, (𝐆𝐫𝐞𝐲𝐡𝐨𝐮𝐧𝐝) 𝐂𝐡/𝐂𝐈𝐁/𝐃𝐊/𝐍𝐋/𝐃𝐄 𝐂𝐡. 𝐈𝐍𝐀'𝐒 𝐅𝐀𝐒𝐇𝐈𝐎𝐍 𝐃𝐄𝐒𝐈𝐑𝐀𝐁𝐋𝐄. 𝐈 𝐫𝐞𝐚𝐥𝐥𝐲 𝐫𝐞𝐚𝐥𝐥𝐲 𝐥𝐨𝐯𝐞𝐝 𝐡𝐞𝐫, 𝐬𝐡𝐞 𝐢𝐬 𝐬𝐨 𝐬𝐲𝐦𝐦𝐞𝐭𝐫𝐢𝐜𝐚𝐥 𝐰𝐢𝐭𝐡𝐨𝐮𝐭 𝐚𝐧𝐲 𝐞𝐱𝐚𝐠𝐠𝐞𝐫𝐚𝐭𝐢𝐨𝐧. 𝐋𝐞𝐧𝐠𝐭𝐡 𝐢𝐬 𝐭𝐡𝐞𝐫𝐞 𝐢𝐧 𝐡𝐞𝐫 𝐡𝐞𝐚𝐝 𝐩𝐢𝐞𝐜𝐞 𝐰𝐢𝐭𝐡 𝐚 𝐬𝐥𝐢𝐠𝐡𝐭 𝐬𝐭𝐨𝐩, 𝐬𝐦𝐚𝐥𝐥 𝐞𝐚𝐫𝐬 𝐚𝐧𝐝 𝐨𝐛𝐥𝐢𝐪𝐮𝐞 𝐛𝐫𝐢𝐠𝐡𝐭 𝐞𝐲𝐞𝐬. 𝐀 𝐥𝐨𝐧𝐠 𝐚𝐫𝐜𝐡𝐞𝐝 𝐧𝐞𝐜𝐤 𝐰𝐢𝐭𝐡 𝐚 𝐬𝐮𝐩𝐞𝐫 𝐟𝐫𝐨𝐧𝐭, 𝐬𝐡𝐞 𝐢𝐬 𝐜𝐮𝐫𝐯𝐲 𝐛𝐮𝐭 𝐧𝐨𝐭 𝐨𝐯𝐞𝐫𝐝𝐨𝐧𝐞 𝐚𝐧𝐝 𝐡𝐚𝐬 𝐬𝐮𝐩𝐞𝐫 𝐦𝐮𝐬𝐜𝐮𝐥𝐚𝐫 𝐜𝐨𝐧𝐝𝐢𝐭𝐢𝐨𝐧 𝐚𝐥𝐥 𝐭𝐡𝐫𝐨𝐮𝐠𝐡. 𝐇𝐨𝐰𝐞𝐯𝐞𝐫 𝐟𝐨𝐫 𝐦𝐞 𝐬𝐡𝐞 𝐜𝐚𝐦𝐞 𝐚𝐥𝐢𝐯𝐞 𝐨𝐧 𝐭𝐡𝐞 𝐦𝐨𝐯𝐞 𝐰𝐢𝐭𝐡 𝐡𝐞𝐫 𝐬𝐮𝐩𝐞𝐫 𝐠𝐫𝐨𝐮𝐧𝐝 𝐜𝐨𝐯𝐞𝐫𝐢𝐧𝐠 𝐟𝐫𝐞𝐞 𝐬𝐭𝐫𝐢𝐝𝐞. 𝐓𝐡𝐞𝐫𝐞 𝐢𝐬 𝐫𝐞𝐚𝐥 𝐩𝐨𝐰𝐞𝐫 𝐚𝐧𝐝 𝐩𝐫𝐞𝐜𝐢𝐬𝐞 𝐟𝐨𝐨𝐭 𝐩𝐥𝐚𝐜𝐞𝐦𝐞𝐧𝐭. 𝐒𝐡𝐞 𝐠𝐚𝐯𝐞 𝐡𝐞𝐫 𝐚𝐥𝐥 𝐨𝐧 𝐭𝐡𝐞 𝐛𝐢𝐠𝐠𝐞𝐬𝐭 𝐬𝐭𝐚𝐠𝐞 𝐰𝐞 𝐡𝐚𝐯𝐞 𝐢𝐧 𝐝𝐨𝐠𝐝𝐨𝐦 𝐞𝐯𝐞𝐫𝐲 𝐭𝐢𝐦𝐞 𝐈 𝐚𝐬𝐤𝐞𝐝 𝐡𝐞𝐫 𝐭𝐨 𝐠𝐨 𝐚𝐧𝐝 𝐢𝐧 𝐧𝐨 𝐰𝐚𝐲 𝐜𝐨𝐮𝐥𝐝 𝐬𝐡𝐞 𝐛𝐞 𝐝𝐞𝐧𝐢𝐞𝐝 𝐭𝐡𝐞 𝐭𝐨𝐩 𝐬𝐩𝐨𝐭.
𝐈 𝐟𝐞𝐥𝐭 𝐢𝐧𝐜𝐫𝐞𝐝𝐢𝐛𝐥𝐲 𝐩𝐫𝐨𝐮𝐝 𝐰𝐚𝐭𝐜𝐡𝐢𝐧𝐠 𝐡𝐞𝐫 𝐟𝐥𝐨𝐚𝐭 𝐚𝐫𝐨𝐮𝐧𝐝 𝐭𝐡𝐞 𝐫𝐢𝐧𝐠 𝐟𝐨𝐫 𝐁𝐈𝐒 𝟐 𝐧𝐢𝐠𝐡𝐭𝐬 𝐥𝐚𝐭𝐞𝐫.
𝘗𝘶𝘣𝘭𝘪𝘴𝘩𝘦𝘥 𝘋𝘢𝘵𝘦: 15/03/2022
𝘣𝘺 𝘛𝘩𝘦 𝘒𝘦𝘯𝘯𝘦𝘭 𝘊𝘭𝘶𝘣 𝘓𝘪𝘮𝘪𝘵𝘦𝘥, 𝘙𝘦𝘨𝘪𝘴𝘵𝘦𝘳𝘦𝘥 𝘪𝘯 𝘌𝘯𝘨𝘭𝘢𝘯𝘥 𝘢𝘯𝘥 𝘞𝘢𝘭𝘦𝘴
– 𝘬𝘤𝘫𝘶𝘥𝘨𝘦𝘴𝘤𝘳𝘪𝘵𝘪𝘲𝘶𝘦𝘴.𝘰𝘳𝘨.𝘶𝘬 –
𝘕𝘰𝘵𝘪𝘤𝘦 𝘰𝘧 𝘊𝘰𝘱𝘺𝘳𝘪𝘨𝘩𝘵 / 𝘐𝘯𝘵𝘦𝘭𝘭𝘦𝘤𝘵𝘶𝘢𝘭 𝘗𝘳𝘰𝘱𝘦𝘳𝘵𝘺 𝘳𝘪𝘨𝘩𝘵𝘴: 𝘠𝘰𝘶 𝘢𝘳𝘦 𝘸𝘦𝘭𝘤𝘰𝘮𝘦 𝘵𝘰 𝘤𝘰𝘱𝘺 𝘦𝘹𝘤𝘦𝘳𝘱𝘵𝘴 𝘰𝘧 𝘰𝘶𝘳 𝘪𝘯𝘧𝘰𝘳𝘮𝘢𝘵𝘪𝘰𝘯 𝘧𝘰𝘳 𝘱𝘦𝘳𝘴𝘰𝘯𝘢𝘭 𝘶𝘴𝘦 𝘢𝘯𝘥 𝘱𝘶𝘳𝘱𝘰𝘴𝘦𝘴 𝘰𝘧 𝘳𝘦𝘷𝘪𝘦𝘸, 𝘥𝘪𝘴𝘤𝘶𝘴𝘴𝘪𝘰𝘯, 𝘢𝘤𝘢𝘥𝘦𝘮𝘪𝘤 𝘴𝘵𝘶𝘥𝘺 𝘢𝘯𝘥 𝘰𝘵𝘩𝘦𝘳 𝘭𝘦𝘨𝘪𝘵𝘪𝘮𝘢𝘵𝘦 𝘱𝘶𝘳𝘴𝘶𝘪𝘵𝘴. 𝘠𝘰𝘶 𝘥𝘰 𝘯𝘰𝘵 𝘯𝘦𝘦𝘥 𝘵𝘰 𝘴𝘦𝘦𝘬 𝘱𝘦𝘳𝘮𝘪𝘴𝘴𝘪𝘰𝘯 𝘧𝘰𝘳 𝘴𝘶𝘤𝘩 𝘧𝘢𝘪𝘳 𝘶𝘴𝘦, 𝘢𝘭𝘵𝘩𝘰𝘶𝘨𝘩 𝘺𝘰𝘶 𝘴𝘩𝘰𝘶𝘭𝘥 𝘢𝘤𝘬𝘯𝘰𝘸𝘭𝘦𝘥𝘨𝘦 𝘵𝘩𝘦 𝘴𝘰𝘶𝘳𝘤𝘦.
𝘚𝘰𝘶𝘳𝘤𝘦: 𝘬𝘤𝘫𝘶𝘥𝘨𝘦𝘴𝘤𝘳𝘪𝘵𝘪𝘲𝘶𝘦𝘴.𝘰𝘳𝘨.𝘶𝘬